Unlike us, hamsters have constantly growing teeth, so they need something to chew on to file their teeth down. If you notice your furry friend chewing on the bars of their hamster cage, you may want to invest in some chew toys.
Giving your hamster some fun chew toys will help keep their teeth trimmed, provide exercise and improve their mental stimulation. However, you should only choose safe toys made from non-toxic materials.
Here are our top 10 best chew toys for hamsters:
This review looks at the best chew toys for hamsters and explains why giving these small animals something to chew on is essential for their health and well-being.
Do hamsters need things to chew on?
Hamsters are small rodents. The word "rodent" is from the Latin word "rodere", which means "to gnaw".
Gnawing and chewing is an important activity for hamsters as it helps them to wear down their continuously growing teeth.
In the wild, hamsters chew on tree branches and cones to wear down their molars.
Chewing keeps your hamster's teeth healthy and at the right length. If you do not give your pet hamster something to chew on, its teeth become overly long, causing discomfort and pain and making it difficult for them to eat. It can also be fatal.
If your hamster's teeth become too long, you must take them to the vet for tooth clipping.
It is better to take preventative measures by placing plenty of hamster chew toys in your pet's cage, keeping your hamster interested and stopping them from chewing on the cage bars.
What kind of chew toys are best for hamsters?
The best hamster chew toys should be made from non-toxic materials that are digestible and durable and come in different sizes and textures to keep your hamster's attention and prevent boredom.
You should ensure any chew toy has no sharp edges that could injure your little buddy.
Any hamster toy containing harmful substances can affect the health of these small pets, harming their immune system and leading to sickness and possibly food poisoning.
When choosing hamster chew toys for your pet, you should include hanging toys, plastic toys, wooden toys, ball toys, apple sticks, chew sticks and mineral blocks to provide plenty of variety.
Many chew toys contain flavors that hamsters love.
Wooden toys should be pesticide free and chemical-free. You can give your hamster natural wood by providing twigs from apple and pear trees, but you should avoid cedar and pine branches and poisonous trees like yew and oleander.
Always take note of the expiry date on hamster chew toys, as some only last for a few days.
But for optimum nutrition, opt for toys that contain vitamins, fiber and protein.
There are so many hamster chew toys to choose from, so you need to experiment with various toys and find out which types of chews your furry friend prefers.
Top 10 chew toys perfect for hamsters
Here are our pick of the top hamster chew toys.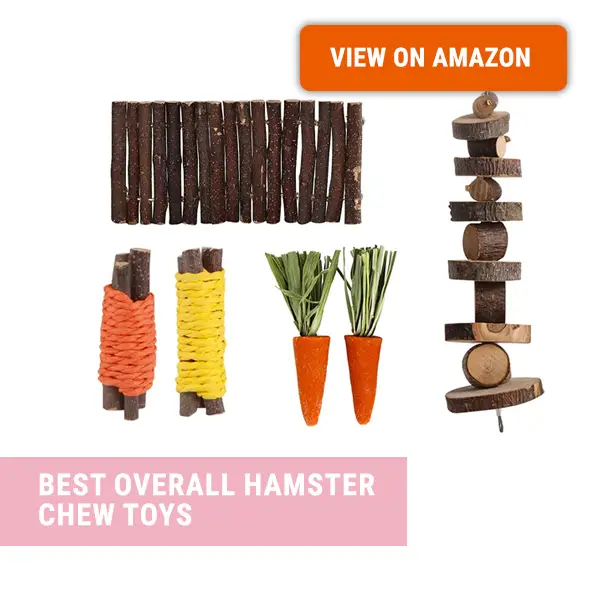 If you are looking for a good variety of chew toys for your pet hamster, then look no further than the BUCATSTATE 9-piece set of hamster chew toys.
This chew toy set includes 2 grind teeth carrots, 2 apple wood sticks, 1 apple branches molar string, 2 timothy cakes and 1 hamster bridge.
These natural and homemade hamster chew toys, made from safe raw materials, help molar and intestinal health, keep your hamster's teeth healthy, and relieve intestinal inflammation.
These tasty and fun toys will keep your pet active, and the hamster bridge bends into different shapes to fit easily into your hamster's cage, creating an exciting playground for your pet!
Pros:
High-quality products
Affordable price
Hay cakes contain high fiber
Cons:
Your hamster might not like all the products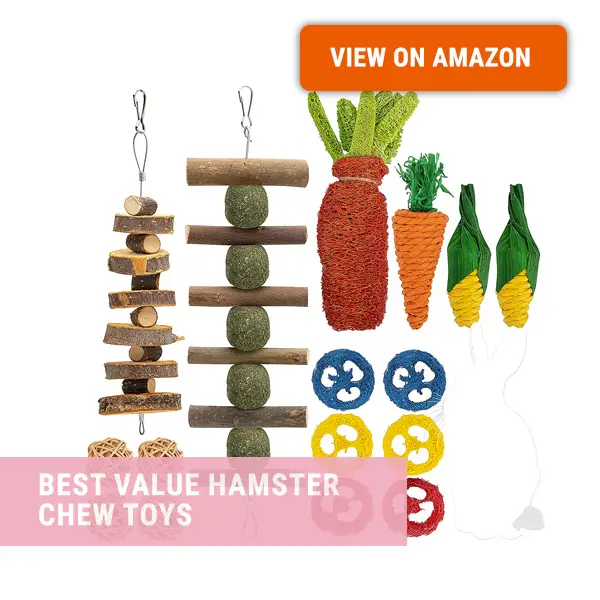 This super value pack contains some of the best hamster chew toys, including timothy hay balls, apple tree wood sticks, woven carrot and corn, and rattan balls.
The products are handmade with natural wood scent and are safe for chewing, promoting good digestion and healthy teeth for your furry friend.
Hamsters love the variety these fun pet hamster toys provide and make great activity toys to keep your hamster interested in life and prevent boredom and depression.
Pros:
Made from 100% natural material
Affordable price
Hamsters attracted by the crisp sound
Contains high fiber
Cons:
Some pieces might be too big for a hamster cage
This brightly colored toy for hamsters is made of 100% natural wood, which is safe and durable for chewing and biting.
This hamster toy keeps your hamster's molars in tip-top condition and is also highly versatile as a play toy.
The rotational climbing blocks give your little buddy plenty of exercise, allowing them to climb and explore and increase their mental stimulation.
Pros:
Natural and safe
Good for hamster's physical and mental health
Affordable price
Cons:
Toy may take up too much room in a cage if there is not enough space.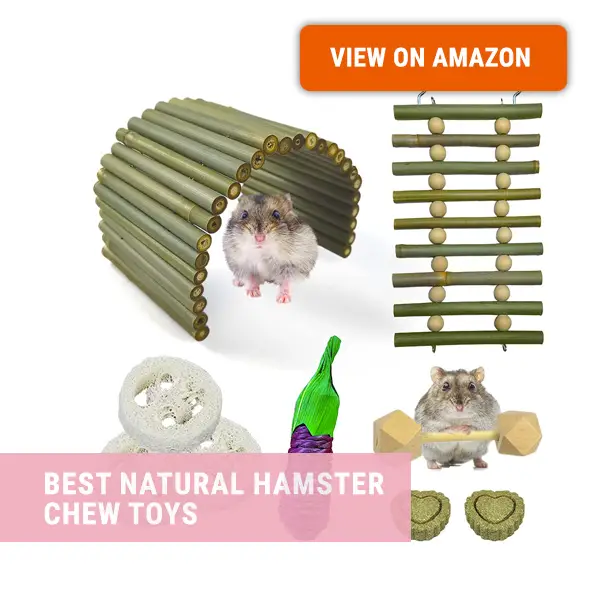 These hamster chew toys are made of natural bamboo and wood without any pigment, being extremely hygienic for your pet.
The toys include a bamboo hideout, providing a cool and comfortable hideout that hamsters love, a climbing ladder, a dumbbell, a grass eggplant and a grass molar toy.
Pros:
Eco friendly
Safe
Affordable price
Cons:
Flimsy so may not last long
These safe and natural chew toys for small animals give your pet hamster the perfect opportunity to chew, play and work out.
The twigs provide your hamster with top-quality dental care and are also a good source of roughage for a healthy digestive system.
The grass balls come in different flavors that most hamsters will enjoy.
Pros:
Made from natural ingredients
Safe
Affordable price
Can be hanged in a pet's cage with a small hook
Cons:
Don't last long
Some hamsters dislike the flavors
This hamster chew toy set contains 19 pieces all made from natural loofah allowing hamsters to chew freely without compromising on safety.
The toys come in five different shapes to capture your hamster's attention and keep their molars trimmed as well as provide exercise.
Pros:
Safe for chewing
Attractive designs and colors
Affordable price
Cons:
Some hamsters ignore loofah chews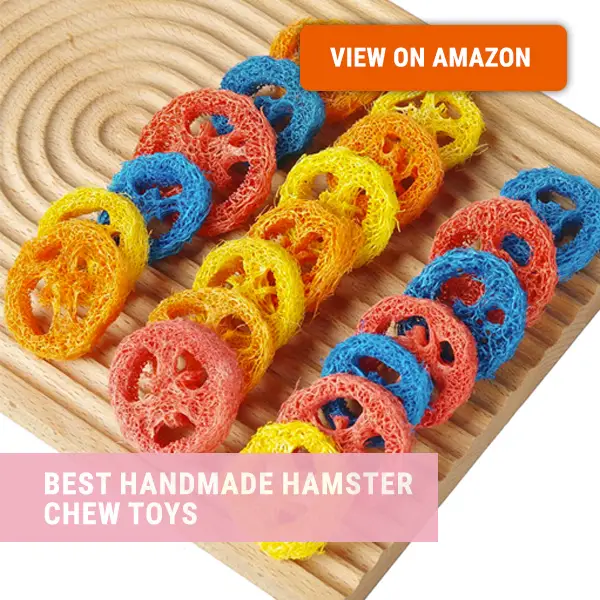 This brightly colored 20-piece chew toy set is also made from natural loofah, making these toys safe for your pet hamster to chew.
The loofah toys promote the digestion of small pets and keep your hamster's dentures clean. They also provide entertainment for your hamster to combat boredom, anxiety and stress in your pet.
Pros:
Natural materials
Safe
Affordable price
Cons:
Some hamsters ignore loofah chew toys
These hanging toys give your hamster plenty of variety, which include grapevine wreaths, timothy round grass balls and rattan ball with timothy hay.
These natural toys provide the perfect accessories to your hamster's cage satisfying your pet's instinct to chew while keeping them healthy and active.
Pros:
Natural ingredients
Comes with DIY wood chips for pet's name
Affordable price
Cons:
Hamsters can become entangled in hanging toy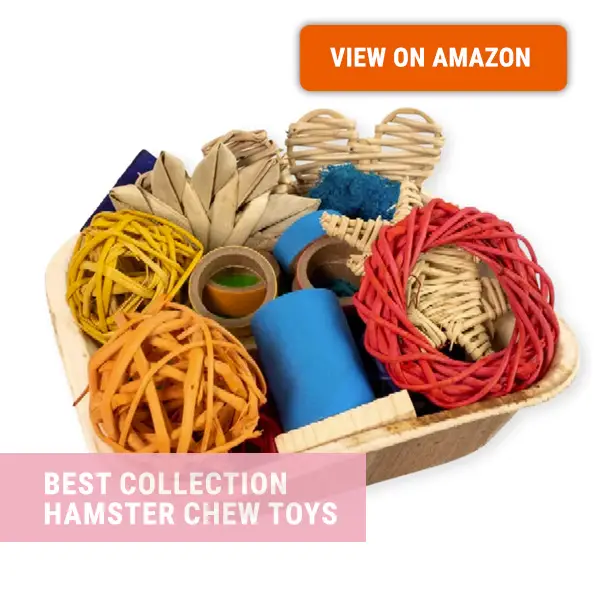 This basket of chew toys for small critters are the perfect size for your pet hamster; it is made of natural, environmentally friendly wood and is chemical-free, making them safe and healthy for your little friend.
These well-made, bite-resistant hamster toys help clean and trim your pet's dentures while keeping them entertained and exercised.
Pros:
Safe and durable
Made from natural materials
Cons:
More expensive than other chew toys
These natural and organic chew toys are made from natural apple wood material making them safe for your pet hamster to gnaw and chew on.
They can improve the dental health of your hamster while providing them with entertainment.
You can hang the chewing string in your hamster's cage with a small hook while the other slices can be used outside the enclosure.
Pros:
Made from natural products
Contains no chemicals
Sturdy
Cons:
Hanging string can be dangerous for hamsters
In summary
Hamsters will chew on just about anything! You can keep cage life fun for your hamster by providing a variety of chew toys such as grass balls, blocks, wood ladders, chew sticks, hanging toys and mineral blocks.
Check out other accessories you can get to keep your hamster happy, in our buyers guides: